Hollywood Lost Stars In 2022
Bob Saget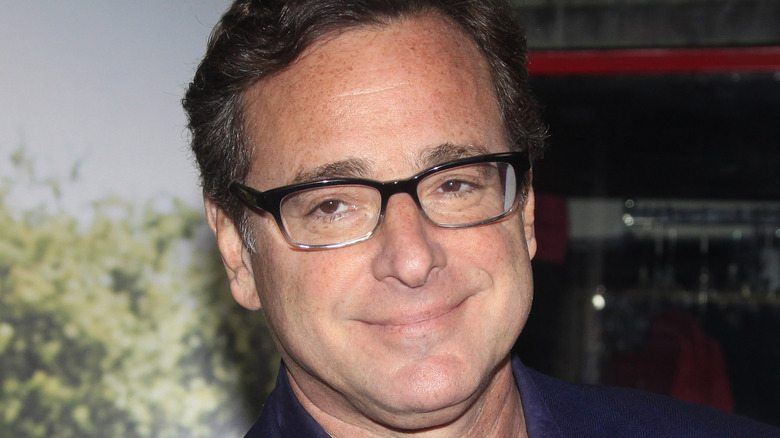 Comedian and actor Bob Saget, best known for his long stint on the sitcom "Full House," died in January 2022. He was found dead in his hotel room with "no evidence of drug use or foul play," said Chief Medical Examiner Joshua Stephany (via ABC 7). "I am so completely shattered and in disbelief," his wife, Kelly Rizzo Saget, said in a statement (per Variety). He was 65.
Saget made his TV debut as Bob the Comic in a 1981 episode of the Tom Hanks sitcom "Bosom Buddies." He established himself as a reliable character actor in the years that followed, playing a soldier in "At Ease" and a doctor in "It's a Living." In 1987, he won the part of Danny Tanner on "Full House," which became a career-defining role. Saget played the widowed father of three from 1987 to 1995, and reprised the role in the Netflix-produced sequel series, "Fuller House." It was often hectic on set, but Saget had fond memories of working with his onscreen kids. "Jodie Sweetin was four when she started, Ashley and Mary-Kate [Olsen] were nine months, Candace [Cameron Bure] was nine — you're talking about exceptionally talented young kids," the actor told Vanity Fair in 2014.
Elsewhere, Saget was known as the voice of the older Ted Mosby on "How I Met Your Mother" and as the host of "America's Funniest Home Videos," which he fronted for almost a decade.
Gaspard Ulliel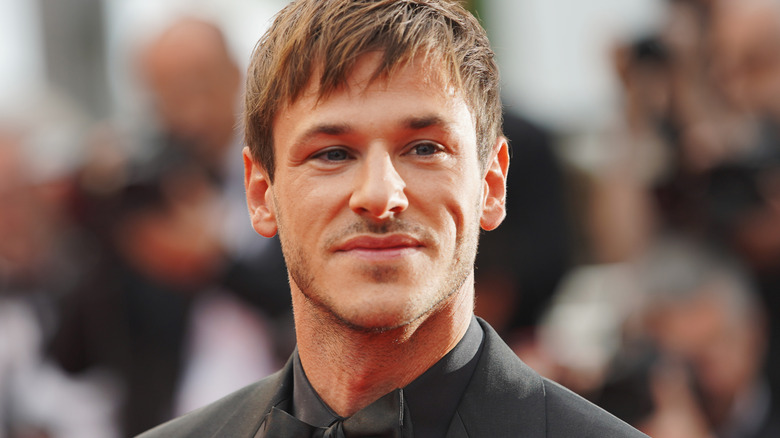 French actor Gaspard Ulliel, who was best known to international audiences for his turn as the young Hannibal Lecter, died due to a skiing accident in January 2022, as reported by Deadline. He was 37.
Ulliel began his career on French television in the late 1990s, and was landing film roles by the early 2000s. His big break arrived in 2004, when he landed the part of Manech in "A Very Long Engagement." This wartime drama reunited "Amelie" director Jean-Pierre Jeunet with the star of that film, Audrey Tautou. Ulliel won his first Cesar award for this movie (his second came in 2017, when he scooped up Best Actor for "It's Only the End of the World") and would make the transition to Hollywood soon after, playing the titular killer in the 2007 prequel film "Hannibal Rising." It was his biggest role at the time of his death, though that likely won't remain the case.
Sadly, Ulliel died a few months before Marvel's "Moon Knight" dropped, in which he plays Anton Mogart (aka Midnight Man), a black market antiquities dealer who goes head to head with the titular hero.
Louie Anderson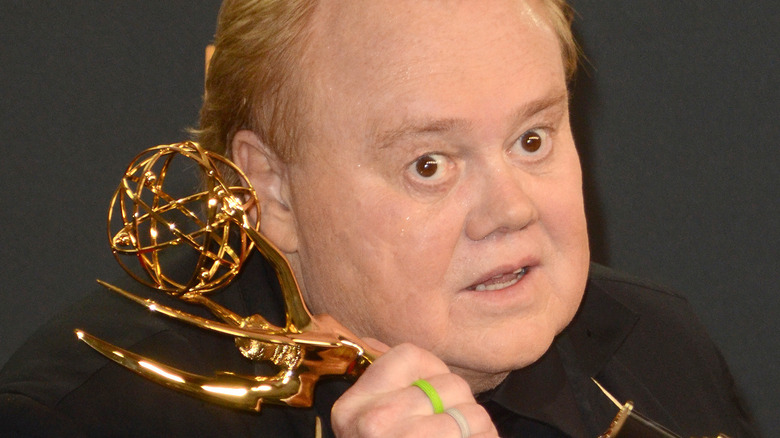 Emmy winner Louie Anderson, who appeared in films like "Ferris Bueller's Day Off" and "Coming to America," died of complications from cancer in January 2022, his publicist confirmed to CNN. He was 68. Tributes from across the entertainment world poured in after the news broke. "I was one of the lucky ones who got to call Louie a friend," screenwriter Carl Kurlander wrote in a Deadline tribute piece. "He made me and others in his orbit feel like family."
Anderson decided to give stand-up a go after his colleagues (he was "working as a social worker with troubled children" at the time, said Kurlander) dared him to go on stage. The audience loved him, and it wasn't long before he was making his mark in the comedy world. Anderson's talent and career were multifaceted: He was as comfortable in front of a crowd as he was fronting game shows. Indeed, he would become a fixture on American TV screens as the host of "Family Feud" from 1999 to 2002.
Anderson plied his trade on shows like "Grace Under Fire," "Touched by an Angel," "Chicago Hope," and "Scrubs," but some of his best work came in the twilight of his career. Anderson was nominated for Emmys three years running for his performance on the Zach Galifianakis-led FX comedy "Baskets," winning in 2016.
Sidney Poitier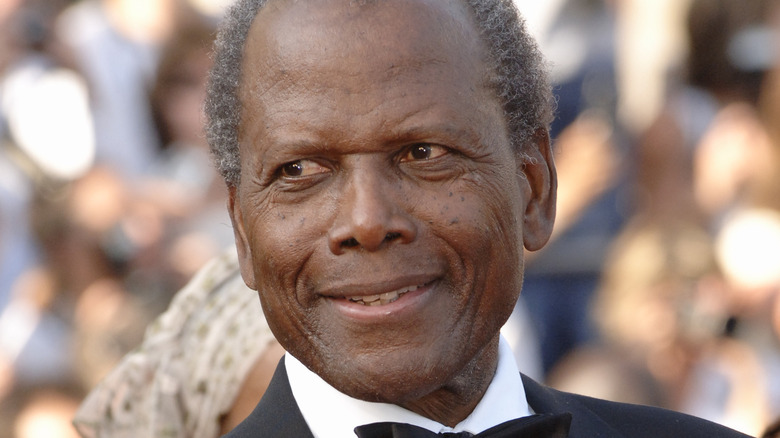 Hollywood legend Sidney Poitier, widely seen as the first Black movie star, died in January 2022 at the age of 94, as confirmed by The New York Times. "Through his groundbreaking roles and singular talent, Sidney Poitier epitomized dignity and grace, revealing the power of movies to bring us closer together," Barack Obama said in a tweet. Denzel Washington called him "a gentle man [who] opened doors for all of us that had been closed for years" in an interview with People.
Poitier earned his first credited film role, Dr. Luther Brooks, in 1950's "No Way Out." He actively avoided demeaning roles, and by the end of the decade, his persistence began paying off. He became the first Black man to be nominated for the Academy Award for Best Actor in 1959, blowing critics away with his turn as an escaped prisoner in "The Defiant Ones." He missed out on that occasion, but would make history a few years later when he became the first Black man to win that award for his performance as an itinerant laborer 1963's "Lilies of the Field."
How did Poitier feel about opening so many doors for Black actors and artists everywhere? "It's been an enormous responsibility," he once told Oprah Winfrey. "And I accepted it, and I lived in a way that showed how I respected that responsibility. I had to."
Peter Robbins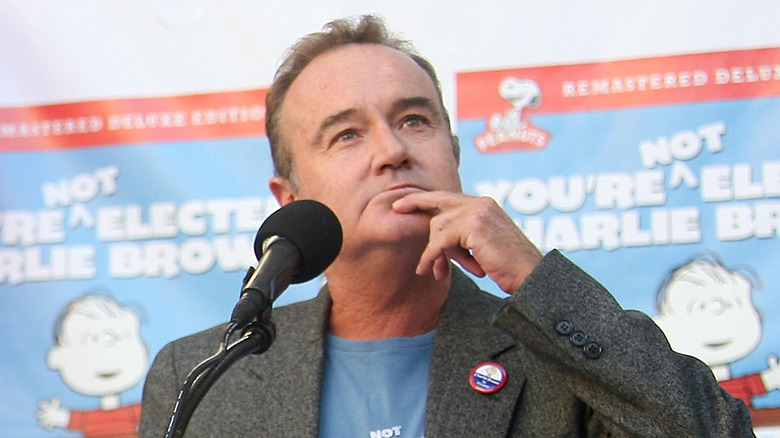 Peter Robbins, who was best known as the original voice of Charlie Brown, died in January 2022. Dylan Novak, Robbins' friend and agent, told the Los Angeles Times that the cause of death was suicide. He was 65.
The convention regular made his onscreen debut in the 1963 film "A Ticklish Affair." He appeared on the TV shows "Rawhide," "The Donna Reed Show," "The Munsters," and "The Farmer's Daughter" the following year. Robbins began voicing Charlie Brown in 1965 and went on to play the classic "Peanuts" character seven times before the end of the decade, most notably in the feature-length films "A Charlie Brown Christmas," "It's the Great Pumpkin, Charlie Brown," and "A Boy Named Charlie Brown." According to the Times, Robbins was so proud of his work on the franchise that he got a tattoo of Charlie Brown and Snoopy on his arm.
Robbins was also known for his work on another comic adaptation: He played Alexander Bumstead on the live-action "Blondie" series, based on the long-running strip of the same name. Other notable credits include the films "Moment to Moment," "And Now Miguel," and "Good Times," as well as the TV shows "The F.B.I.," "F Troop," "Get Smart," and "My Three Sons."
If you or anyone you know is having suicidal thoughts, please call the National Suicide Prevention Lifeline at 1-800-273-TALK (8255)
Moses J. Moseley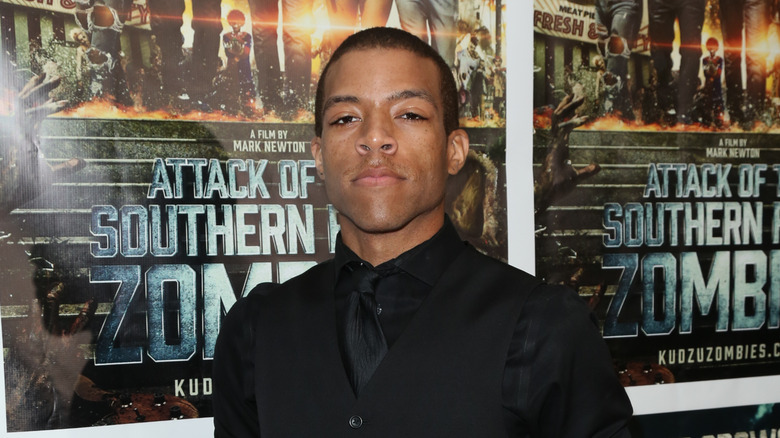 Up-and-coming actor Moses J. Moseley, who appeared on shows like "Watchmen," "Queen of the South," and "The Walking Dead" was found dead in Georgia in January 2022. "Moses was a very talented person, with a bright light around him," his agent, Tabatha Minchew, told The Hollywood Reporter. "He will be missed deeply by his friends, family and fans. Always a ball of happy energy around him." The cause of death was not immediately revealed by authorities, who launched an investigation to determine the circumstances. He was 31.
A native of South Carolina, Moseley studied at Georgia State University before settling down in Atlanta. According to The Hollywood Reporter, he worked as a model before transitioning into acting. He got his foot in the door with a number of uncredited appearances in locally-shot films like "Trouble with the Curve," "The Internship," and "The Hunger Games: Catching Fire." Moseley began playing Michonne's pet walker Mike on "The Walking Dead" in 2012, and would appear on the hit AMC show half a dozen times over the next few years.
Moseley went on to play Tic Toc on USA Network's "Queen of the South," an usher on HBO's critically-acclaimed "Watchmen" series, and Kadeem on Irv Gotti's "Tales." His most notable feature film was 2017's "Attack of the Southern Fried Zombies," in which he played Robbie. Moseley had several projects in various stages of production when he was reported missing by his family, including "Hank" and "Cadillac Respect."