Pro Wrestlers Who Passed Away In The Ring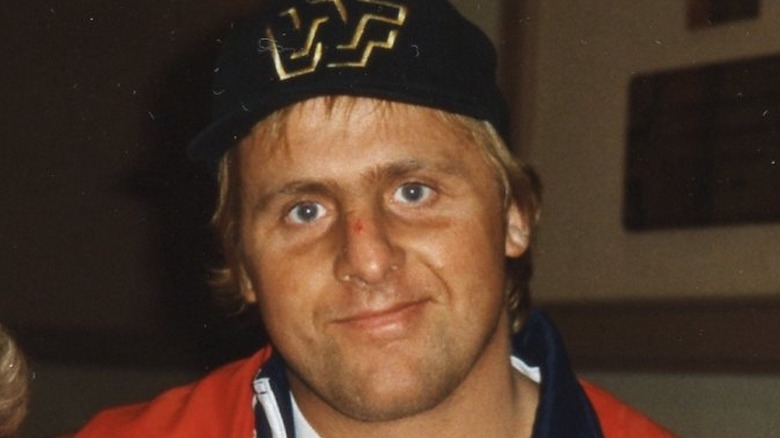 Professional wrestling is not a sport for the faint of heart. Much like other combat sports such as boxing and mixed martial arts, pro wrestlers legitimately risk their lives on a nightly basis to entertain the masses. As a result, even the strongest athletes and most proficient wrestlers are prone to accidents, which can oftentimes have fatal consequences.
Premature death has long been a problem in the industry, however, many early deaths in pro wrestling can be chalked up to drugs and health issues stemming from a prolonged career in the ring. On a less frequent basis, one misstep can result in a wrestler losing their life in the ring, whether the fault lies squarely on themselves or their opponent. Emergency health events can also lead to disaster as, unlike most other athletes, many wrestlers will compete past their 50s, when health events such as strokes and heart attacks are more frequent.
Here are 21 pro wrestlers who passed away in the ring.
Perro Aguayo Jr.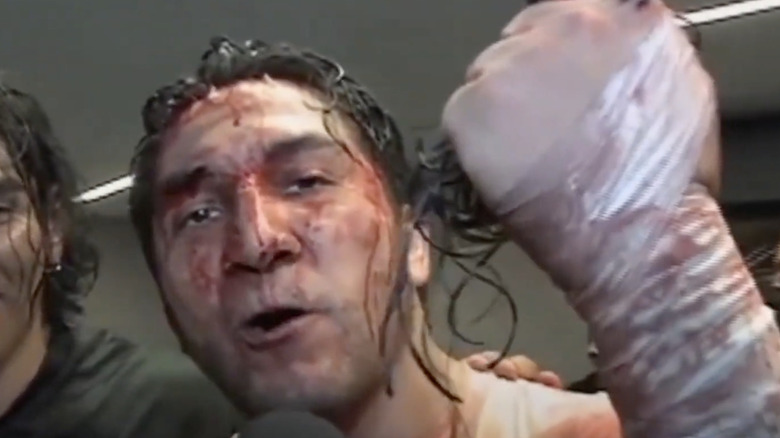 Perro Aguayo Jr. was one of the most high-profile wrestlers to pass away in the ring in nearly a decade at the time of his death. As the son of the original "Perro Aguayo," the man known as Pedro Aguayo Ramírez outside the ring debuted as a 15-year-old in 1995 and frequently teamed with his father. He competed in AAA for eight years, then left for the rival Mexican promotion, CMLL. He wrestled for CMLL until 2008, then returned home to AAA for the final seven years of his career. He also received Wrestling Observer Rookie of the Year and ranked as high as eighth in the 2007 edition of the Pro Wrestling Illustrated (PWI) 500, second among Mexican wrestlers.
Aguayo wrestled his final match on March 20, 2015, a tag team match where he and Manik (TJ Perkins) took on Rey Mysterio Jr. and Xtreme Tiger for The Crash promotion in Tijuana. According to Mysterio in his A&E Biography, Aguayo was to end up in position for Mysterio's finishing sequence, the 619, but instead of getting caught up in the ropes, went through the ropes and down to the floor below. Still, Aguayo ended up properly placed for the 619, but Mysterio missed him when he wound up slouched over the ropes. When Konnan, who was in attendance that night, went to wake Aguayo up, the 35-year-old did not respond. He was pronounced dead at the Del Prado hospital, and found to have died from cervical spine trauma caused by Mysterio's dropkick. Upon landing in the ring ropes, the whiplash from the action snapped his neck and autopsy results showed Aguayo broke his C-1, C-2, and C-3 vertebrae, dying almost immediately as a result of a cardiac arrest due to a cervical stroke caused by the fractured vertebrae.
"We lost the biggest superstar that Mexico has ever seen," Mysterio told Justin Barrasso of Sports Illustrated. "There were so many plans moving forward that would have been incredible. When I meet great people in this industry, I like to let them know they are great human beings. Perro was definitely one of them. He was so warm-hearted, kind, and respectful. Just like there will never be another Eddie, there will never be another Perro."
Silver King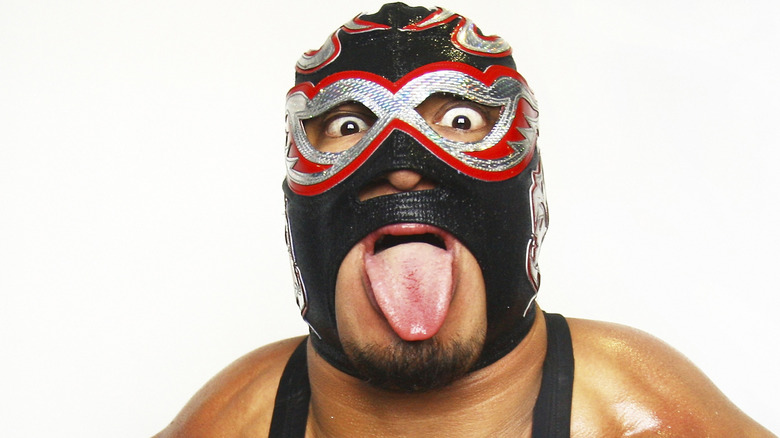 Silver King, a distinguished luchador known for his work both north and south of the border, died in the ring at 51 years old. Silver King grew up as the son of a high-profile wrestler, Dr. Wagner, putting him on a lifelong collision course with the pro wrestling industry. He made his debut in 1985, formed a tag team known as Los Cowboys alongside El Texano after losing his mask in 1990, then went to work for WCW for four years between 1997 and 2000. While in WCW, Silver King retained his cowboy character and competed regularly in the company's cruiserweight division. After WCW closed its doors, Silver King became the third wrestler to portray the Black Tiger character in New Japan Pro-Wrestling. Later, he wrestled for AJPW, AAA, and even starred opposite Jack Black in the 2006 comedy "Nacho Libre."
While wrestling familiar foe Juventud Guerrera in London, England on May 15, 2019, Silver King collapsed in the ring and died. The autopsy confirmed Silver King, real name César Cuauhtémoc González Barrón, died of a sudden myocardial infarction, a type of heart attack. A tribute show for Silver King was held on May 22, 2019.
Iron Mike DiBiase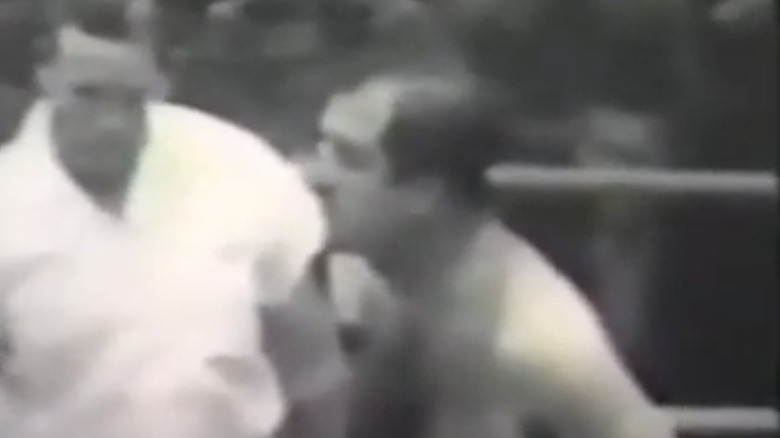 Michael DiBiase, the stepfather of "The Million-Dollar Man" Ted DiBiase and grandfather of retired wrestlers Mike, Ted and Brett DiBiase, had his impressive career across the United States cut short at the age of 45. His death, which came as a result of a massive heart attack, is even more surprising considering how well-known DiBiase was for keeping himself in tremendous physical condition. He once competed against Dory Funk in a Texas Death match that lasted for four hours and 10 minutes, a match type similar to the Last Man Standing match but notorious for its excessive length.
The one-time AAU amateur wrestling champion of 1946, died in the ring on July 2, 1969, in Lubbock, Texas, immediately following a match with Man Mountain Mike. According to the Pro Wrestling Historical Society, Harley Race was the first person around ringside to notice something was wrong and immediately started administering CPR to DiBiase. Race rode with his colleague to the hospital where he was immediately pronounced dead.
"[My stepfather] had a storied career and he was a good dad," Ted DiBiase Sr. said of his stepfather in an interview with Fatherly. "One of the things he told me when I was very young was 'Don't follow the crowd.' He said, 'It takes no courage to do that. Be a leader, not a follower. Be the head, not the tail. If you work real hard, you can be anything you want. If you're willing to pay the price, make the sacrifices.' He never once bragged about that stuff. I always heard stories from other people about his college career and other achievements."
Ted DiBiase also stated in a shoot interview his stepfather's death came as a result of a cholesterol build-up in his heart, and that he had a propensity for future heart disease due to his genetics.
Moondog Spot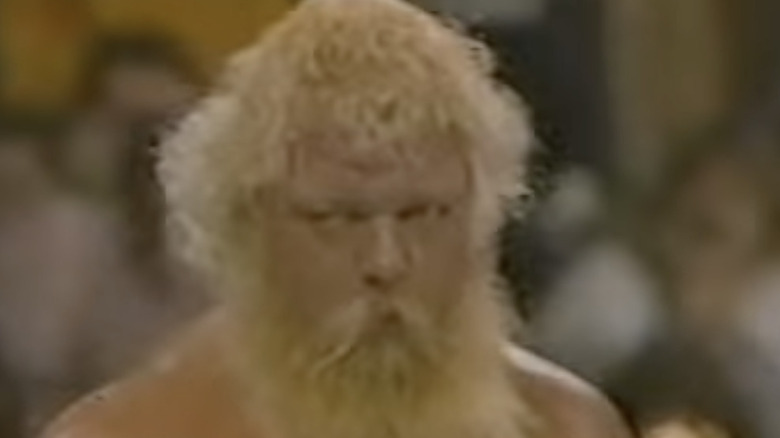 Moondog Spot, who also wrestled in the Memphis territory as Larry Latham, is one of several wrestlers on this list to have passed away as a result of a heart attack in the ring. Spot, real name Larry Booker, is best known for his run in the WWF as one-half of the Moondogs tag team alongside Moondog Rex. He had previously made up one-half of the Blonde Bombers in Memphis alongside Wayne Ferris, who later became The Honky Tonk Man in WWF. Together, Ferris and Latham earned notoriety for their feud with Jerry "The King" Lawler and Bill Dundee, and more specifically the "Tupelo Concession Stand Brawl" on June 15, 1979.
Booker, a native of Memphis, died in his hometown when he suffered a heart attack during a Memphis Championship Wrestling match on November 29, 2003. Booker, wrestling as Moondog Spot, had been competing in a "concession stand battle royal" at Lawler's "birthday bash" show but soon slumped himself in the corner of the ring. After realizing something was wrong with Booker, the wrestlers involved in the match brought it to a swift end as the paramedics swarmed the ring. Booker passed away upon arriving at the local medical facility. "From what I understand from one of the wrestlers, he went to hit Larry and grabbed him," MCW promoter Cory Macklin told the South Florida Sun-Sentinel. "When he grabbed [Booker] by the beard, he laid back and collapsed."
Brian Ong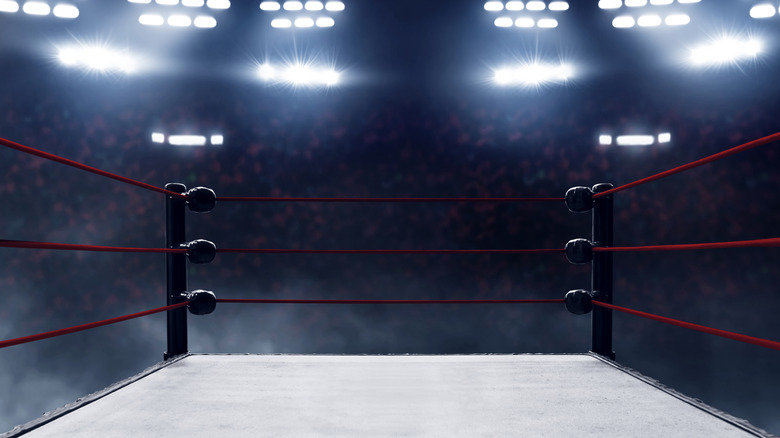 Perhaps the most notable example of a wrestler dying as a result of another wrestler's action in the ring is when Brian Ong died during a match with Dalip Singh, who later rose to fame in WWE as The Great Khali. Little is known about Ong other than that he had been training to enter the business at the All Pro Wrestling Boot Camp in Hayward, California. On the day of his death in 2001, he wrestled Singh, a 7'3, 420 pound man who had been wrestling for only seven months himself.
During a training session, Khali hit Ong with a flapjack, a move where the wrestler on the receiving end of the move is supposed to land on their stomach. Instead, Ong came down awkwardly on his head, but received clearance to continue training that day from the APW medical team on site. He took another move from Singh and wound up dying as a result of the trauma to the head. He was 27. Ong's family sued APW and Singh for the wrongful death of the wrestling trainee and were awarded a sum of money north of one million dollars. APW's Roland Alexander, who passed away in 2013, told Colt Cabana on the "Art of Wrestling Podcast" that the school's liability insurance covered the judgment. As for Singh he was cleared of any wrongdoing, went on to have a successful eight-year run in WWE and has never spoken publicly on the matter.
Oro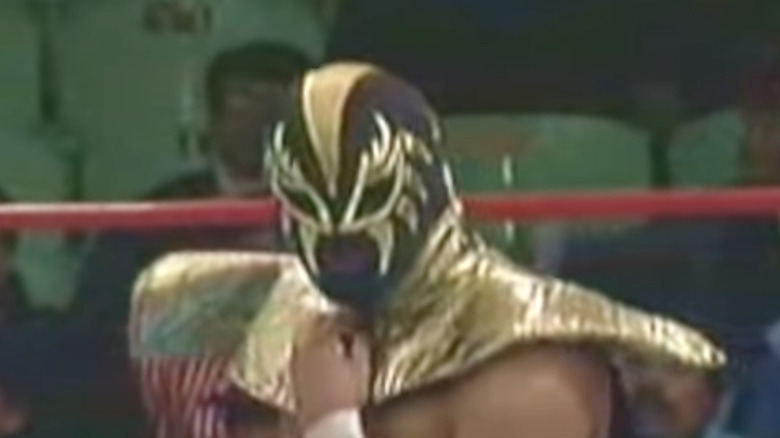 Oro, real name Jesús Javier Hernández Silva, saw his wrestling career come to an abrupt end before it fully got rolling. The second-generation superstar's death came at the age of 21 and occurred during a six-man tag team match for EMLL (now CMLL) at the Arena Coliseo in Mexico City on October 26, 1993. Prior to the match, Oro told the five other wrestlers involved in the match – La Fiera, Brazo de Plata, Kahoz, Dr. Wagner Jr., and Jaque Mate — that he wanted to take a "Kobashi bump" to add dramatic effect. The type of bump Oro referred to was a head first backdrop driver that Kenta Kobashi took three times from "Dr. Death" Steve Williams less than a month prior in AJPW. During the match at Arena Coliseo, Oro landed on his head while attempting to sell a clothesline from Kahoz. When Kahoz went to raise his opponent to his feet, Oro collapsed to the mat and died before even reaching the ambulance. Since Oro's parents requested that an autopsy not be performed, he is believed to have died from a brain aneurysm.
The death of the promising 21-year-old sent shockwaves throughout the world of lucha libre, with rival promotion AAA even acknowledging it during a time where tensions ran high between the top two Mexican promotions. These days, Oro continues to be celebrated by the Mexican fans. The community gathers around the time of Oro's death every year to celebrate his life with a religious mass at Arena Coliseo, the place of his passing. The mass is meant to not only honor the life of Oro, but other major names in lucha libre who have since passed on.
Emiko Kado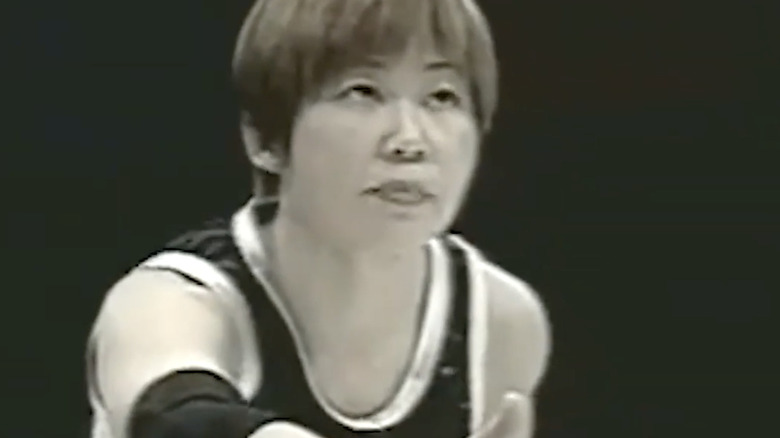 Japanese wrestler Emiko Kado's brief in-ring career came to a tragic end on March 31, 1999. She teamed with Michiko Omukai to face Mariko Yoshida and Mikiko Futagami in a tag team match at Korakuen Hall in Tokyo, Japan, a big deal for a women's wrestler with just 15 matches in her brief career (and one exhibition) up to that point. Kado's career is also notable in that she never came out on the winning end of any of her matches.
Roughly 22 minutes into the match at Korakuen Hall, Kado suffered a serious injury from a blow to the head. Kado was rushed to a hospital in her hometown of Fukuoka, where she died from intracerebral bleeding on April 9,1999, less than two weeks after the match. According to Dave Meltzer of the Wrestling Observer Newsletter, she spent her final days in a coma and specifically died due to an acute sprained membrane in her brain. She was 23.
Eric Denis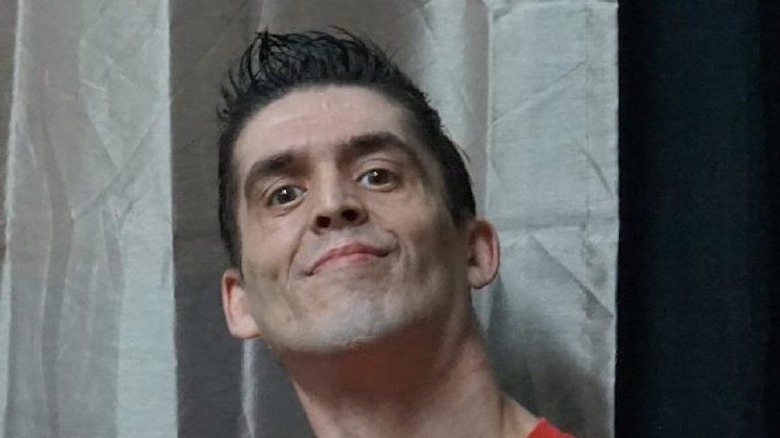 Canadian Eric Denis, a father of six children at the time, collapsed in the ring at a charity show for his home promotion, ICW Fighting Federation, in Montreal on October 8, 2017. According to The Independent, the local medical team reportedly attempted to revive Denis, but he was pronounced dead upon his arrival at the hospital. A heart attack is his expected cause of death – Pat Laprade of Slam Wrestling reported Denis complained for a few weeks that he felt like there was a pressure point in his back, but chalked it up to a muscular spasm.
Danny Kidman, the head of ICW, commented to TVA Nouvelles about Denis' tragic passing. Kidman called the situation with Denis "terrible," while praising the medical staff for their diligent work as well as Denis for being an exceptional wrestler and father. Additionally, Denis came from a wrestling family in Montreal, as both his father and uncle used to be involved with ICW as both a manager and wrestler respectively.
Richard Delicious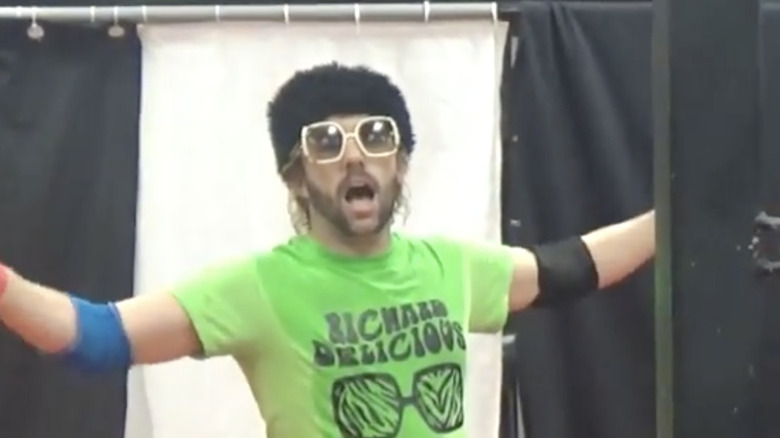 Floridian independent wrestler Richard Delicious, real name Wayne VanDyke, passed away after collapsing during a match for Ronin Pro Wrestling on April 29, 2017. Sportskeeda reported that VanDyke, 29 at the time, told his partner that he wasn't feeling well during the match, and suffered a heart attack after tagging out.