The 15 Best Hondas Of All Time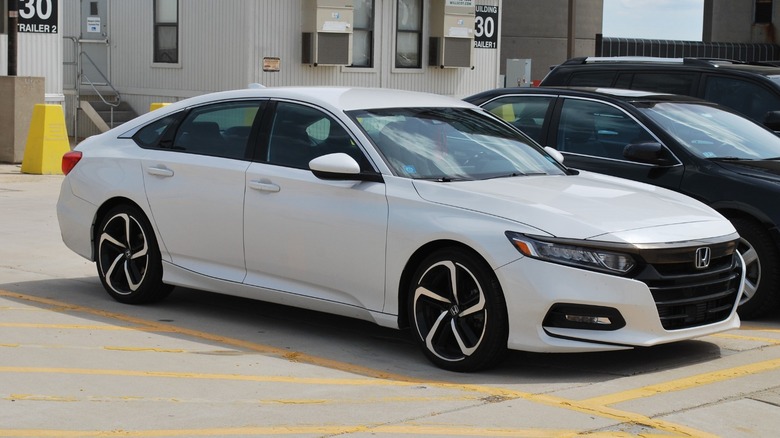 Japanese automaker Honda has a storied history of producing some of the most reliable passenger vehicles available. Years of dedicated craftsmanship, innovative designs, and top-tier mechanical engineering have helped elevate the brand from a motorcycle company in post-war Japan to a global manufacturer of some of the leading model cars, vans, and SUVs produced each year. 
With models that range from passenger cars to family mini vans to sturdy pickup trucks, Honda as a brand has built a reputation for producing dependable vehicles that allow for more road miles than most others in their model vehicles' respective classes. After emerging in the United States passenger car market in 1969 with the Honda N600 sedan, it grew in popularity with the Civic model several years later (per Motor Biscuit). When the global energy crisis made drivers reconsider the size of their vehicles in the mid-1970s, the popularity of Honda and its lightweight, fuel-efficient vehicles surged to new heights among American consumers.
Since then, Honda has produced and released scores of model passenger vehicles, many of which have been available in the U.S. each year. Here's a close look at the 15 model Hondas over the years that have hit the top of their game.
2020 Honda CRV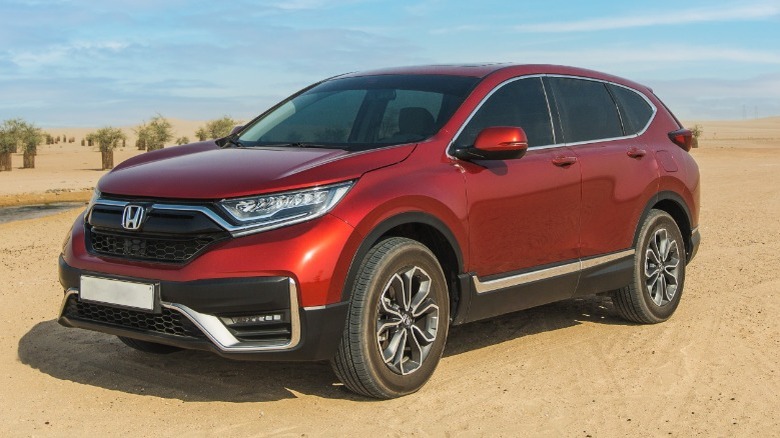 With four trim levels that each have a hybrid engine option, the 2020 model year CRV combined Honda's reputation for reliability with enough onboard technology to go head-to-head with its primary rivals in its class of crossover SUVs.
Car and Driver reports that this first incarnation of the turbo-charged engine made its appearance for this model year of the CRV. The 1.5-liter engine is paired with one of the best continuously variable automatic transmissions (CVT) on the market. The 190 horsepower engine (212 horsepower for the hybrids) might be powering a model on the lower end of the spectrum for towing capacity at only 1,500 pounds, but what it lacks there it makes up for in its smooth handling, high safety ratings, ample passenger room, and large cargo area.
With a fuel economy of 28 city/34 highway (40 city/35 highway for the hybrid), the 2020 CRV is among the most fuel-efficient vehicles in its class. U.S. News and World Report rated this year's model a solid 8.5/10.0, with J.D. Power and Associates giving it a critics' rating of 9.4/10 and an overall safety rating of 9.9/10.0. Though the base trim LX lacks a lot of tech features that most consumers would want, the mid-tier trim levels and beyond add many of the creature comforts that the modern commuter looks for onboard their vehicle. A 7.0-inch infotainment touchscreen, compatible with Apple CarPlay and Android Auto, and a SiriusXM satellite radio work well with the nine-speaker stereo. Great seats make for a smooth ride for commuters or on long-distance road trips.  
2020 Honda Accord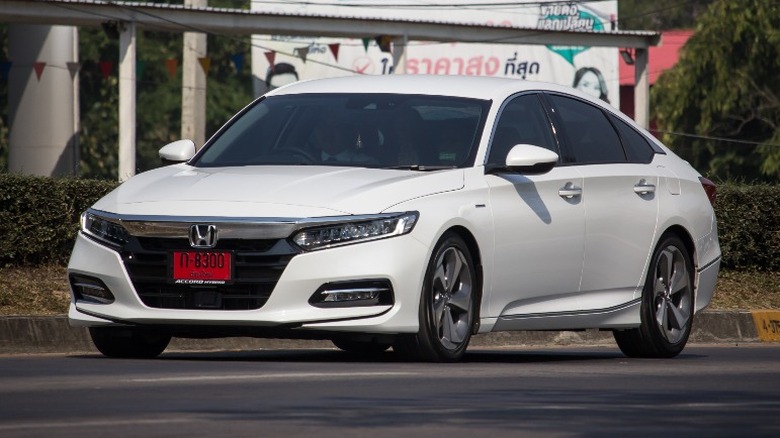 The Honda Accord, now in its 10th generation of models, has been a solid performer for Honda in the United States. This five-passenger family sedan is well-known for its reliability and its staggering 300k+ engine miles potential.
With the 2020 model year, the Accord was equipped with a 1.5-liter turbocharged engine as standard, with a 2.0 liter as an upgrade. With 192 horsepower and 252 horsepower respectively, these engines are paired with either a CVT or a 10-speed automatic transmission. Honda also manufactured this model year with the option of having a manual transmission for either engine type (per Cars). Prospective buyers could choose a 2020 Accord hybrid.
Onboard is a luxurious interior, complete with leather-trimmed seats that are both heated and ventilated. The eight-inch touchscreen infotainment system adds both Apple CarPlay and Android Auto, along with smartphone connectivity. A navigation system and heads-up display were available as an upgrade to this year's model. 
U.S. News and World Report rated this model year Accord #1 in affordable mid-sized cars, giving it high marks for reliability, safety, comfort, and onboard features. You'll enjoy the superior handling, competitive pricing, overall fuel economy, and comfortable ride that helped to make this the best model year of the legendary Accord lineup to date.
1999 Honda CR-V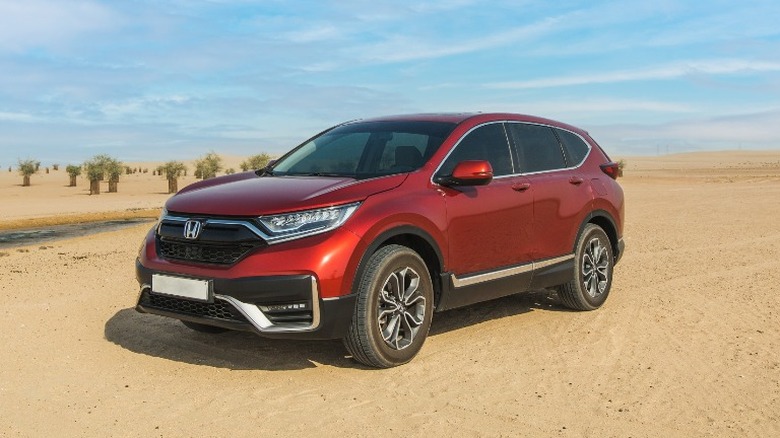 Honda first debuted its compact CR-V SUV in 1997 to mediocre reviews overall. A lack of power compared to others in the same class was the source of criticism from both consumers and auto experts alike, though it did get great reviews for safety and fuel economy (per Cars). 
In 1999, the CR-V was released with an engine with improved horsepower, and the option of all-wheel drive or front-wheel drive. Built on the Civic platform, the CR-V used this trusted base and became the first true sport utility vehicle for the automaker.
Over the years, this model year has shown tremendous reliability, with many consumers reporting well over 200k miles and going on the original engine (via Edmunds). The popularity of the first and second generations of this model propelled it into what it is today, consistently earning an overall rating of #1 or #2 for affordable compact SUVs (via U.S. News and World Report). 
The onboard features for this model were consistent with the model year, with a great audio system complete with a CD player, power windows and locks, power-adjustable exterior mirrors, and other technologies that made this ride pleasant as well as safe. 
2017 Honda Odyssey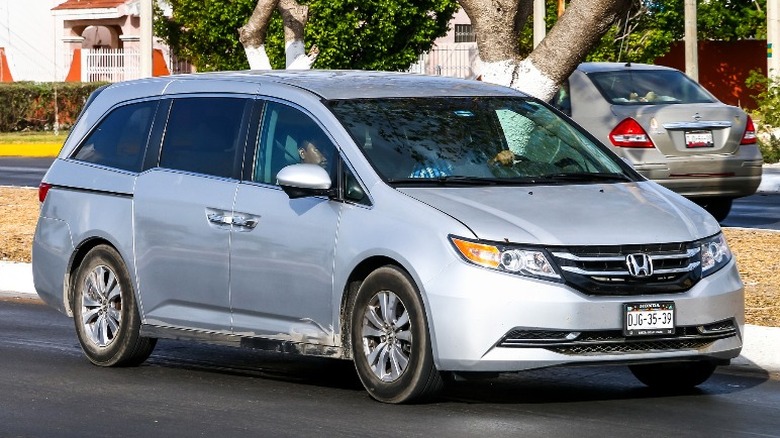 Honda has produced its award-winning minivan since 1995, consistently ranking at or near the top of its class. The 2017 model year was the last of its generation before a total redesign hit showroom floors in 2018. In the years since its release, this model year of the Odyssey has proven itself to be one for the ages.
Whether you have a large family in tow or are in need of a family car that can double for a cargo wagon, the 2017 Odyssey is worth looking for in the used vehicle market. It has over 140 cubic feet of cargo room available (via Car Indigo), and the seats are a breeze to shift to achieve this maximum amount of storage space.
MSN writes of the overall spaciousness and top-tier safety ratings that most consumers look for in a mini-van, citing the 2017 model year as the top. It also reports on how this model won the Best Mini-Van for Families award for eight straight years from 2011-to 2018.
The 2017 model had a minimal amount of consumer complaints, and only one recall (per Car Complaints). 
U.S. News and World Report rated it 8.5/10.0 overall, praising this model year for its seemingly flawless performance, spaciousness, and dependability. The onboard features were among the top offered for mini-vans that model year, even going above and beyond with the option of adding an in-cabin vacuum for quick and easy clean-up. Consumers and critics alike praised the power of this vehicle's V-6 engine and roomy cabin that could accommodate up to eight passengers. 
2022 Honda Accord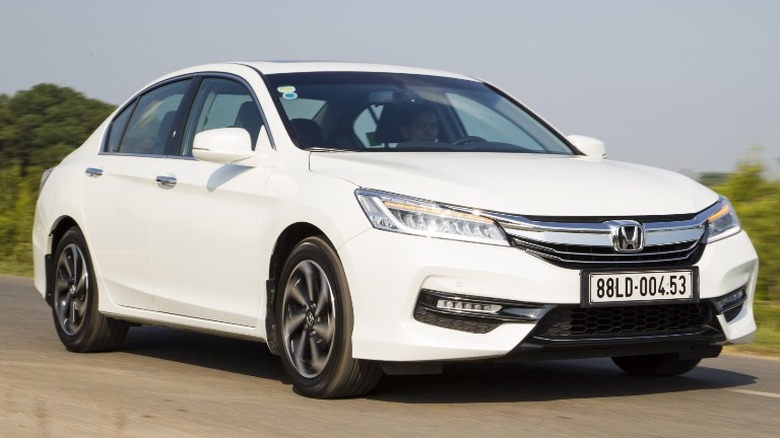 While not ranked the highest in mid-sized cars upon its release, the 2011 Accord has proven itself to be one of the better used cars on the market. Though scoring a bit lower by U.S. News and World Report for performance and an interior that was a bit behind others in its class, it garnered a 9.3/10.0 and a 9.8/10.0 for the cost of ownership and safety, respectively. 
The 2011 Accord had an improved fuel economy from recent model years, getting an average of 23 in cities and 34 on the highway. The spacious and roomy interior rides five passengers comfortably, though the trunk had a bit smaller cargo room than others in the same class.
For those who might need a used car that has a lot of life left in it, this car is worthy of your consideration. Motor Biscuit tells us that this model year Accord earned a 5.0/5.0 reliability rating from Consumer Reports. Multiple owner forums tell the same tale, with reports of the 2011 Accord getting over 300k miles with minimal issues along the way. 
For those who want up-to-date onboard amenities and a better performing Accord, look to the latest generation. But should you be wanting a solid used car that still has plenty of road miles left, the 2011 Accord would be a great one to put near the top of your list of considerations. 
2020 and 2008 Honda Ridgeline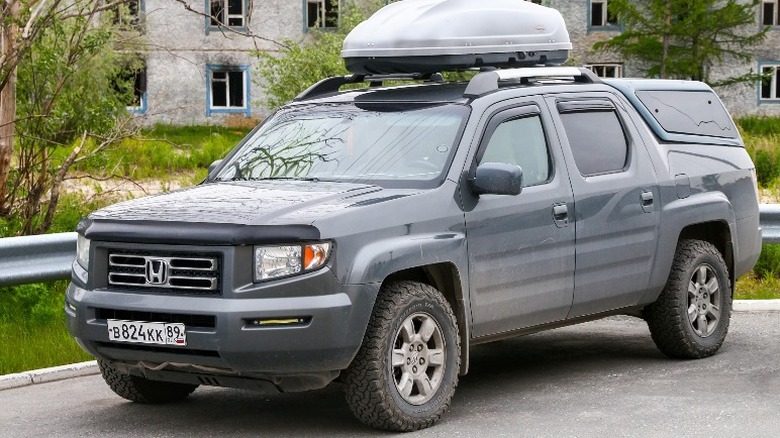 The Honda Ridgeline has had nearly two decades of consistent model years, scoring high marks with both consumers and critics. What it lacks in payload capacity it more than makes up for in overall performance, comfort, and reliability. In the past, it was similar in appearance to the Honda Pilot. But the recent redesign has made it stand out on its own.
That being said, it's tricky to nail down just one model year of the Ridgeline that would be considered the seminal one to look to. For that reason, we'll look at one newer model and one that can be found on the used vehicle market.
In its third year of production, the Ridgeline blew the competition away with its 2008 release. Four-Wheel Trends notes that this vehicle had an almost perfect rating. Though the features onboard would be a bit out of date for some, the truck was near the top in this category in its time. A well-cared-for Ridgeline can get well over 250k miles, will maintain its great fuel economy, and will give the owner few problems.
Following a break in production for a few years, the Ridgeline was back on the assembly line in 2017 with a redesign. The best of this generation is 2020, as it has all-wheel drive as a standard for the first time, working with a solid and dependable nine-speed automatic transmission and a powerful V6 engine. Rated #1 in its class (a common rating with this vehicle), it boasts a state-of-the-art infotainment system, great audio, and solid performance (via U.S. News and World Report). 
2019 Honda Fit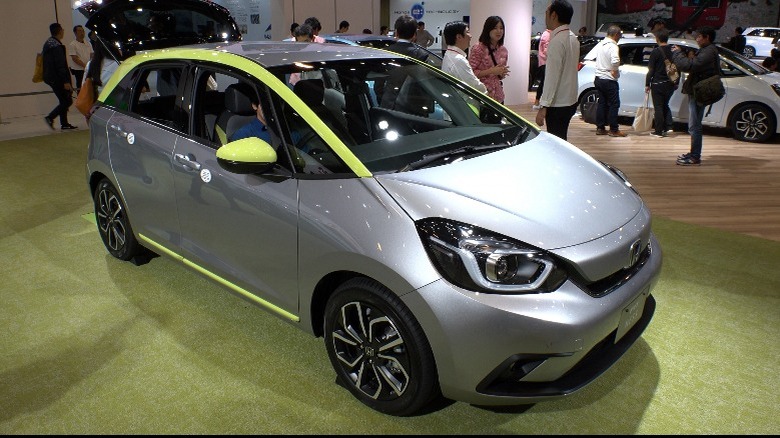 Honda debuted its popular Fit model in 2001. After going through several minor redesigns, consumer complaints sank this vehicle's credibility after the disastrous 2015 model year that saw four separate recalls, one NHTSA investigation over electrical issues, and nearly 200 technical bulletins (via Car Complaints). The fully redesigned 2015 Fit gave the brand some issues to recover from, which, by 2019, it had done in spades. 
The 2019 Fit impressed both critics and consumers alike with its great interior, excellent fuel economy, and impressive ratings for both safety and cost of ownership. So much so, that it was rated the #1 sub-compact vehicle by U.S. News and World Report. 
Though not a powerful vehicle (it generates only 130 horsepower), it handles well and has ample room for a car of its class. The Fit also has an impressive amount of cargo room for such a small car. Motor and Wheels raves about the longevity of this model vehicle as a whole, claiming that an engine life of over 300k miles isn't uncommon.
2004 Honda S2000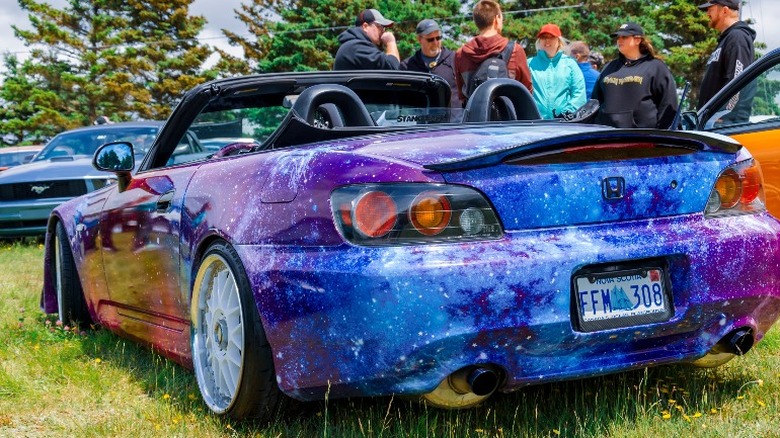 While Honda has a reputation for family-friendly sedans and mini-vans, it's done more than its fair share of producing riveting sports cars. In the open-top sports car category, many enthusiasts reminisce about the exciting Honda S2000 that had its best model year in 2004.
Car and Driver reports that building on a slight redesign from the previous year's release, the 2004 S2000 kept the same top horsepower of 240 but made some tweaks to lower the number of RPMs it needed to achieve it. The 2004 model saw this amount drop from 8,300 RPM to 7,800 RPM, while also seeing the torque peak at a lower RPM than in 2003. 2004 was a swifter model from previous years and drivers rated it higher for performance and handling. 
Much of this is due to the 17-inch wheels that were new to this year's model, as well as a redesigned suspension system. 
Onboard, optional satellite radio was new to this model, as were the headrest speakers.
2019 Honda Civic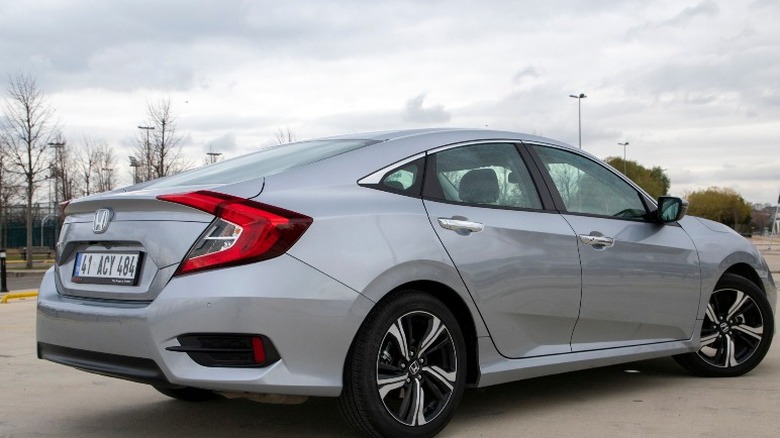 Much like the Accord, the Civic has a long-standing reputation for being one of the more reliable cars on the market. Both models tend to hold their value well, and you'll see many older incarnations of each on the road many years after they rolled off of the showroom floor. 
Picking the best Civic model is a bit challenging, but we feel like the first year of the latest redesign that launched for the 2019 model year is the one that stands out. Aside from the standard dependability and longevity people associate with this model, 2019 saw three body styles and five different trim levels. The redesign brought the most up-to-date onboard features to the Civic, including a better infotainment system and more onboard storage space (via Car and Driver). 
U.S. News and World Report rated it as one of the top compact cars for the money, undoubtedly due to the overall fuel economy, high safety ratings, and low cost of ownership. The starting price tag of just over $24k may have factored in that rating as well. Those that are in the market for a newer model used vehicle will find that the 2019 Civic is reasonably priced and will have a lot of road miles left in it. 
2005 Honda Element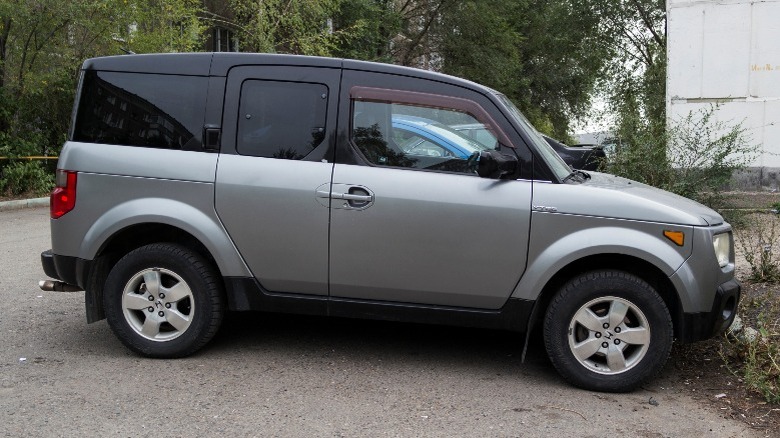 Honda introduced its boxy compact cross-over SUV in 2003, which was met with multiple consumer complaints that ranged from engine issues to faulty onboard features (per Car Complaints). But by the time the 2005 models were being sold, consumers were delighted to see that the automaker had worked the kinks out of what would be one of the more popular SUVs of the decade. 
Though limited to only three trim levels, the onboard technology of that era was typical for even the base model. Cars.com raves about the washable floors and the versatility of the cargo area. In a four-seater, the massive cargo space can be made even larger by re-configuring the position of the rear row of seats. 
A smooth ride with easy handling, this model year's SUV also had tremendous curb appeal for younger drivers. But the safety ratings and dependability also made it an attractive option for young families and commuters. 
Honda Civic CRX (1988-1991)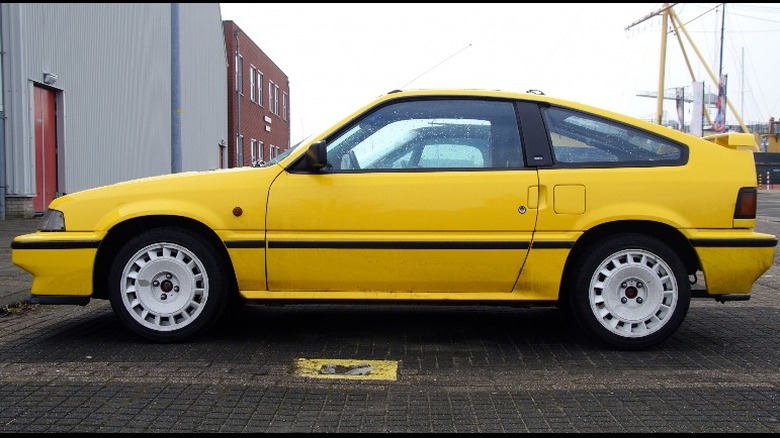 The Civic CR-X was only available from 1988 until 1991, but that was long enough for it to gain a respectable reputation as one of the best compact sports cars during its run. Swift and powerful, the CR-X was built off of the Civic platform. But Honda transformed its smaller sedan into a completely different animal, giving it double-wishbone suspension. Three engine options were available, including a four-cylinder job that topped out at 150 horsepower (via Auto Evolution).
The five-speed manual transmission could reach a top speed of over 110 miles per hour, but the real sell on the CR-X was the fuel economy. Under the right driving conditions, Honda boasted that it could attain a fuel economy of up to 70 miles per gallon on the highway, with the minimum expectation being nearly 50 per gallon (per Cash Cars Buyer). 
Though technically a four-seater, the rear row of seats was hardly suitable in size for the average child to ride in. But these seats did fold down flat, opening up the hatchback and accessing cargo space into something capable of toting almost as many goods as a mid-sized vehicle. 
1994 Honda Prelude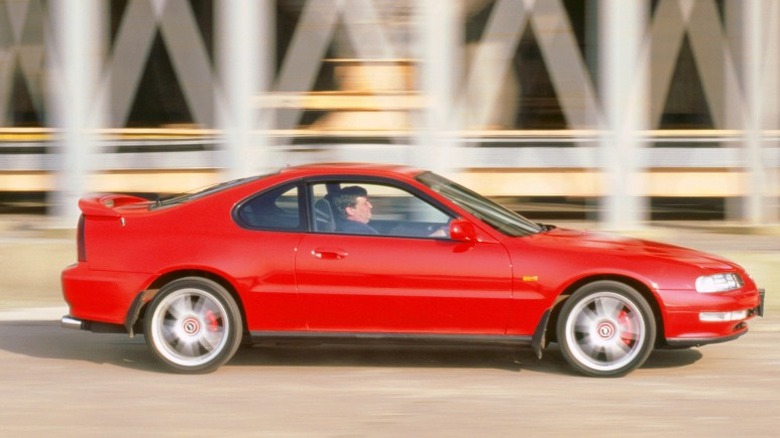 Motor Trend rightfully calls the Honda Prelude "one of the more fascinating cars" in the history of Honda. This model became popular in the United States in the 1980s, with demand for this sporty compact continuing into the next decade. During this model's fourth generation (1992-1996), it abandoned the "origami" style design in favor of one that was more reminiscent of the sports cars of that era. 
Equipped with a 2.2-liter F22A1 four-cylinder engine under the hood, this year's Prelude was rated a perfect 5.0 for its reliability, styling, and value by consumers (via Cars). And like many models of this period, it came standard with a manual five-speed transmission with the option of having it equipped with an automatic. 
Though this car hasn't been produced by Honda since the 2001 model year, there are still some out there on the road, a true testament to Honda's longevity for its extensive catalog of vehicles. 
2022 Honda Accord Hybrid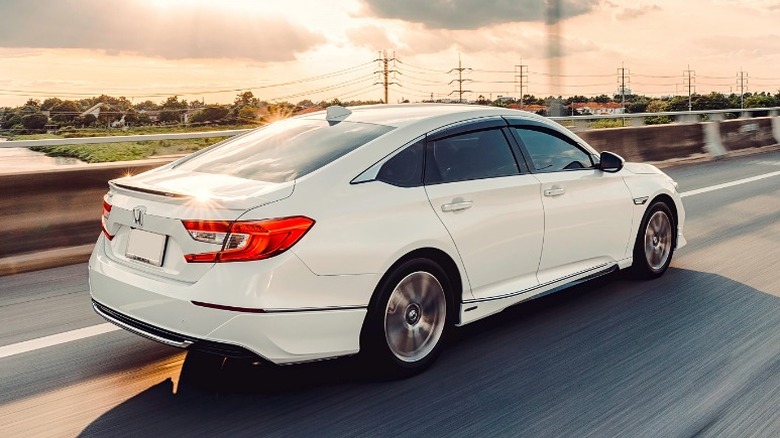 No stranger to hybrid technology, Honda hit another homerun with its hybrid version of the 2022 Accord. Motor Trend rated it #1 in its class of respective vehicles, giving it an overall score of 8.9/10.0. It was also given the highest rating available by this publication for overall safety. 
Motor Biscuit agrees and takes its recommendations a step higher. This publication reports that this is the best in its class for a family vehicle, citing the overall spaciousness, onboard comfort, and current onboard technology as reasons that should entice anyone with a family to place the 2022 model at the top of their list of considerations. The larger touchscreen for its intuitive infotainment system, compatible with both Apple CarPlay and Android Auto, rounds out the fine-tuning of the cabin technologies that the Accord has fine-tuned over the last several model years. 
Additionally, a Sport trim level replaces the EX trim for the current model year, a change from the 2021 release.
With fuel efficiency that tops nearly 50 miles per gallon, this Accord shows that Honda's history with hybrid technology has been cutting edge and continuing to move the industry forward in the right direction.
2021 Honda HRV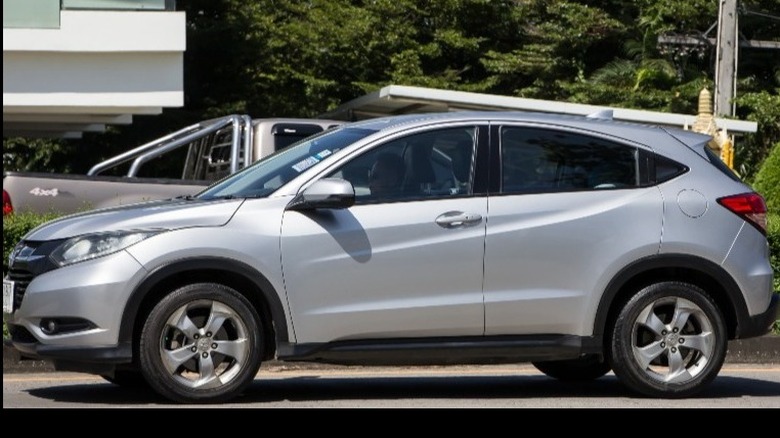 Honda's subcompact crossover SUV was introduced in 1999 and had consistently rated near the top of its class. But after two generations of producing good models, Honda introduced a total redesign that hit the pavement in 2021 that would become one of the best SUVs the automaker ever brought to market in the United States.
In other markets, the HRV has been sold under the name Vezel. When this model began changing in Europe, it was thought to be a lead-in for a similar makeover in the U.S. However, when the 2021 model HRVs were announced in the States, the body design was more rugged as compared to the sportier European release.
The 2021 HR-V shed the design flaws of the prior generation and produced a reliable car that to date has never had a recall. Car Buzz gives it a safety rating of 10.0/10.0, stating that while it wasn't an exciting vehicle to drive (what sub-compact vehicle is?), it provided a smooth ride and boasted of excellent fuel economy. U.S. News and World Report give it moderately high safety ratings, but also cite the overall fuel economy and the massive amount of cargo room as reasons why this model year HR-V would be a popular consideration for a family vehicle. 
1991 Honda NSX (released as an Acura in the U.S.)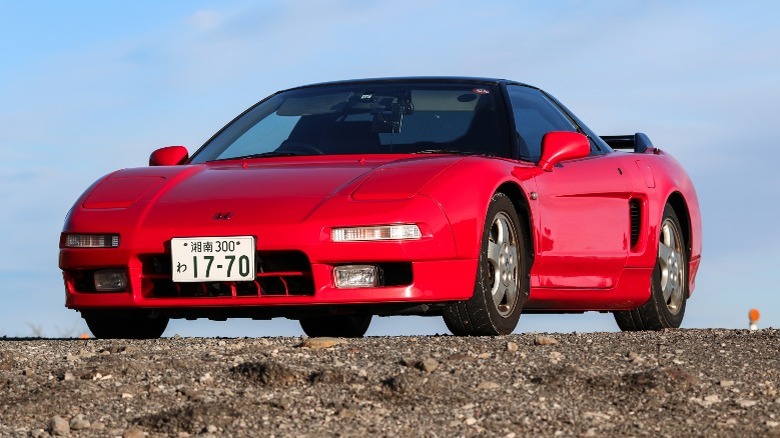 Auto Evolution refers to the 1991 Honda NSX as "one of the most iconic sports-car built by Honda." Sold in the United States under the Acura name, the NSX was designed in part by Ayrton Senna, a former Formula 1 racer. Senna's expertise, coupled with the engineers Honda contracted from various racing organizations, resulted in a swift machine powered by a 3.0-liter VTEC engine that was housed in an all-aluminum body.