THE BEST UPCOMING 2023 METROIDVANIA GAME RELEASES RANKED
Fallen Tear: The Ascension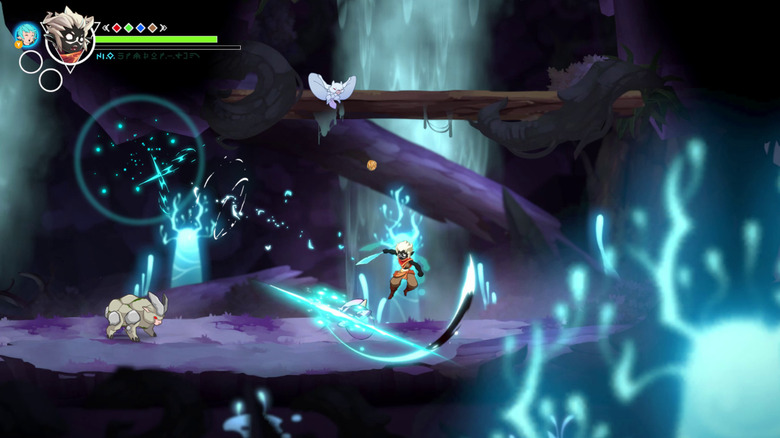 If you're looking for a truly gorgeous 2D side scrolling adventure to play in 2023, look no further than "Fallen Tear: The Ascension." Well, look further into this list but just know "Fallen Tear" makes one heck of a first impression visually. With a hand-drawn style reminiscent of beautiful Metroidvanias like "Dust: An Elysian Tail" and the animated movies that inspired it, everything in "Fallen Tear" from the character designs to the map screen is brimming with life and personality. Set in a vibrant and varied epic fantasy world, "Fallen Tear: The Ascension" is a classic tale of adventure and mysterious dark gods battling all in the beloved Metroidvania format.
In this side-scrolling action and expiration game, you play as the mysterious young protagonist Hira as you journey your way through the world of Raoah. "Fallen Tear: The Ascension" places an emphasis on melee combat, with plenty of AoE and ranged abilities to back up this core combat. During his time trying to save the realm, Hira will encounter numerous NPCs who help him on his journey. Boasting over 40 hours of gameplay and a fully-voiced cast of characters, "Fallen Tear: The Ascension" is setting itself up to be one of the biggest Metroidvanias of 2023.
Release Date: TBA 2023
Genre: Action, Platformer, RPG
Game Modes: Single-Player
 Rebel Transmute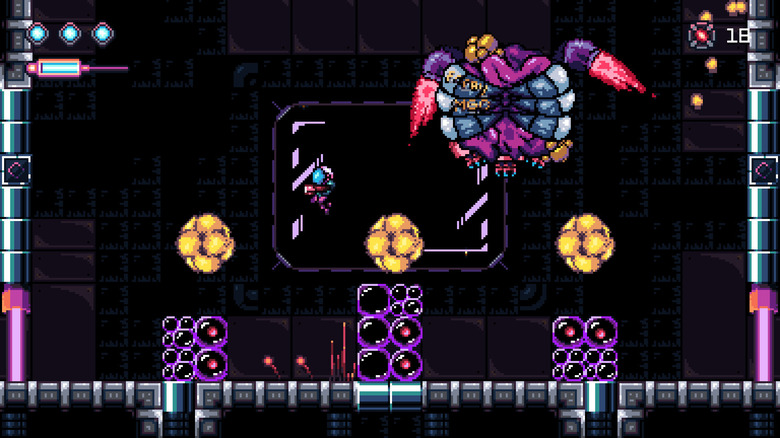 Some "Metroidvania" games, like the "Axiom Verge" games, don't mind wearing their influences on their sleeves. Certainly not "Rebel Transmute," which is at first glance a pretty loving tribute to the 2D "Metroid" games and even shares some familiarity with "Axiom Verge." From the map screen to the cave environments, to enemies that are essentially Metroids minus the copyright infringement, "Rebel Transmute" is starting from a place of familiarity.
However, the trailers and screenshots make it clear that the debut game from indie developer Evan Tor is adding its own elements of flavor to the "Metroid" formula all the games in the Nintendo series follow. "Rebel Transmute" seems to offer a great number of movement and combat abilities, starting with a slide dash, that make the game's character Moon Mikono faster and more nimble than Samus. Plus, if this game is a true "Metroid" homage, we know it is saving the best tools for last. 
You can download the demo now if you want to get your hands on a chunk of the game before deciding if the full thing is worth your wishlist. Or you can always wait until the finished game is released sometime in 2023.
Release Date: TBA 2023
Genre: Action, Platformer
Game Modes: Single-Player
The Siege and the Sandfox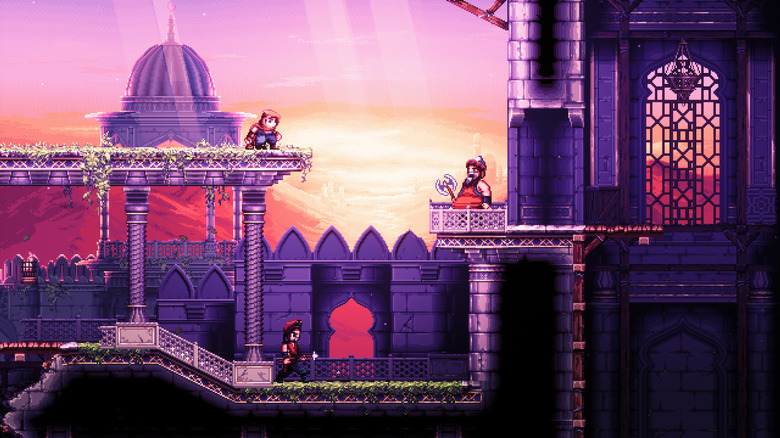 "The Siege and the Sandfox" is a unique take on the Metroidvania genre, which is a rarity since the resurgence of the genre has lasted nearly a decade now. There are plenty of games trying to recapture the magic of "Metroid" or "Castlevania," but "The Siege and the Sandfox" is taking a new approach — stealth. While it might not be the first "Castlevania" inspired sidescroller to incorporate stealth (think "Mark of the Ninja"), "The Siege and the Sandfox" sets itself apart from its predecessors for a handful of reasons. 
The self-proclaimed stealthvania has you sneaking around an interconnected world, finding treasures, and avoiding enemies and their traps. Set in a fantasy desert playing on Middle Eastern and Egyptian imagery, "The Siege and the Sandfox" uses pixel art to depict an environment that is both beautiful and treacherous. As you explore the caves of the world you will master moves and find new tools like any good Metroidvania. There is an emphasis on sneaking around and taking things slowly that is antithetical to many titles in the genre. However, this makes "The Siege and the Sandfox" quite promising, as it appears to be an inventive take on the genre that will emphasize puzzles and stealth as much as combat. 
Release Date: TBA 2023
Genre: Stealth, Action, Platformer
Game Modes: Single-Player
 Blasphemous 2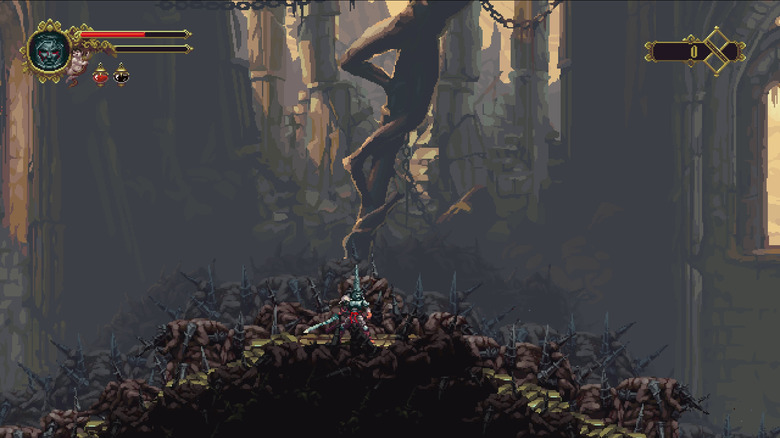 The original "Blasphemous" was a hidden gem of 2019 that turned into a wider cult hit as it was ported to more platforms over the year. It got so popular that the Spanish developer The Game Kitchen has been hard at work on DLC for the game and now — as we've recently learned — a sequel. The first "Blasephemous" was a "Souls" inspired 2D action game that took inspiration from Spanish culture and history (specifically Roman Catholicism, as the title of the game indicates). "Blasphemous" is unique in its art, themes, and subject matter but is also hard as nails, which definitely appealed to a large group of Metroidvania devotees as well as those looking for a game with a different texture and point of view. 
When The Game Kitchen announced the final DLC pack for "Blasphemous," it also confirmed the existence of a sequel. Slated for a to-be-announced date in 2023, "Blasphemous 2" will be a direct follow-  up from the events of the first game and its post-release story content. There have not yet been any trailers or further details released from The Game Kitchen regarding "Blasphemous 2." We are hoping to see more from it in the months to come. 
Release Date: TBA 2023
Genre: Action, Platformer
Game Modes: Single-Player
The Last Faith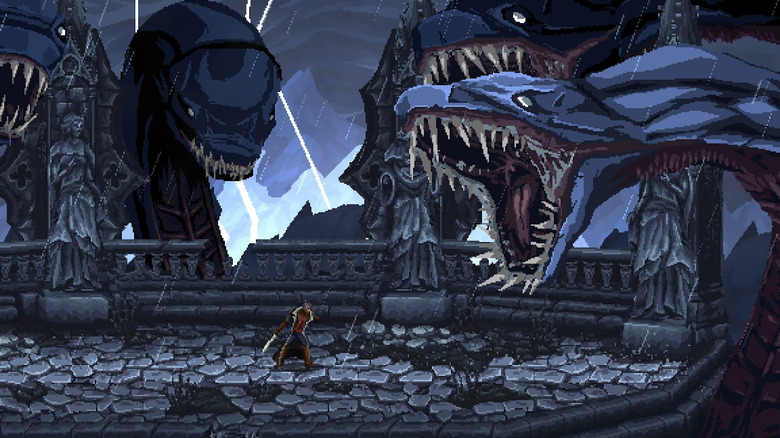 If you're craving a Metroidvania with religious themes and bloody hard combat then you actually don't have to wait for "Blasphemous 2" to get a release date. Another game that is on the horizon can fill that void. And from what we've seen, this title seems like it's a lot further along that the sequel to 2019's hit Metroidvania.
"The Last Faith" is an upcoming pixel-art action side-scroller that takes influence from both Metroidvania games and Soulslikes. It boasts combat that looks like 2D "Bloodborne" mixed with "Castlevania." Beneath the complex melee combat are RPG systems that will keep "The Last Faith" interesting for hours. With an art style and themes not too dissimilar from "Blasphemous," the debut from Kumi Souls Games is playing to a specific base of gamers who love exploring gothic worlds filled with beasts to destroy. The boss we've seen so far is a giant, multi-headed hydra. We can only hope the rest of the game's visuals are as impressive as this first awesome monster.
Release Date: TBA 2023
Genre: Action, Platformer, RPG
Game Modes: Single-Player
Last Vanguard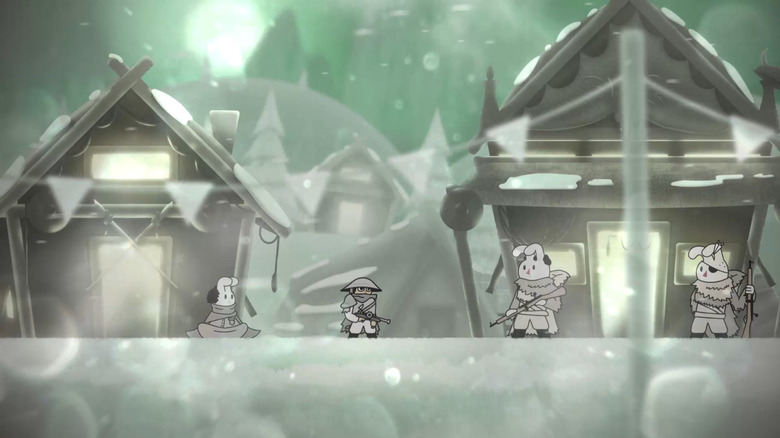 The debut title from Argentinian studio Cool Tapir Studios, "Last Vanguard" is one of the coolest (pun intended) upcoming Metroidvania games of the next year. In addition to having "Metroid" and "Castlevania" elements, "Last Vanguard" is also a 2D-take on the open-world game, setting itself apart from a pack of derivative titles. It is also a shooter in a genre that — despite its "Metroid" roots — tends to offer more melee combat games. In the shooter-platformer, you will progress through an open world full of dungeons and items you will need to survive and improve your character.
With hand drawn art that gives the game a genuinely unique style and frame-by-frame animations, the visuals of "Last Vanguard" are something to gawk at. But beyond that, the combat is fluid and fun. We just don't know how the open world will come together just yet, but we have high hopes for this one.The demo is out now to check out on the game's Steam page before its final release in 2023.
Release Date: TBA 2023
Genre: Action, Platformer, RPG
Game Modes: Single-Player
Doomblade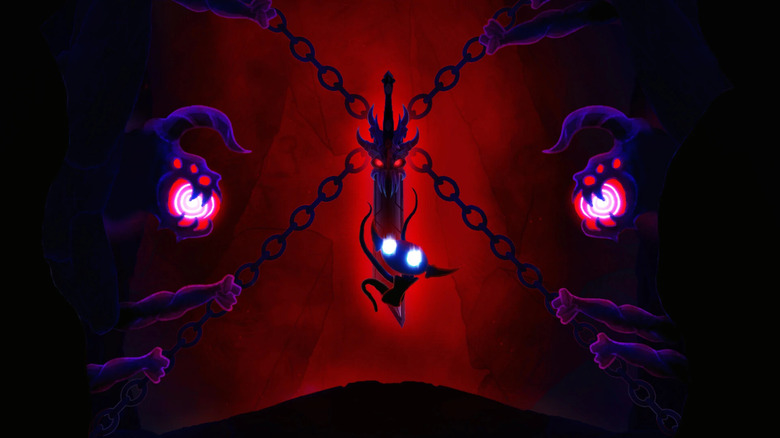 This upcoming 2023 action platformer takes the phrase doom and gloom to a whole new level. When the wandering Gloom Girl discovers the sentient Doomblade, the unlikely pair become the heroes of this Metroidvania inspired adventure. "Doomblade" seems like a traditional action platformer when it comes to gameplay, but it's striking colors and use of light and dark set it apart visually.
In "Doomblade," you fly through the air as Doom and Gloom, bouncing from enemy to enemy in this combat focused platformer. Explore the ruins and use the cadre of abilities of Gloom and her Doom Blade to zip around the world, "Ori and the Will of the Wisps" style. Enemies to quickly dispatch and environment platforming puzzles seem to litter the world, daring you to take on all its challenges. The vibe here is a lot less tranquil and a lot more neon and EDM, but If you liked the "Ori" games, "Doomblade" looks to be scratching the same itch. This game is already looking to be one of 2023's most popular Metroidvanias. 
Release Date: TBA 2023
Genre: Action, Platformer
Game Modes: Single-Player
Biomorph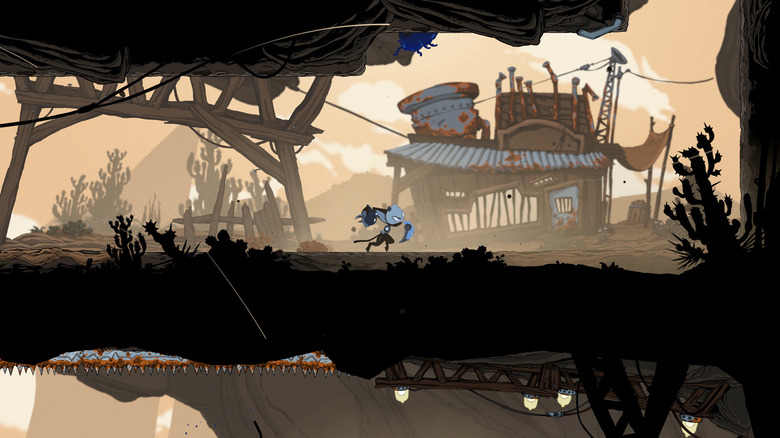 "Biomorph" is one of the most exciting Metroidvania Souls-likes on the horizon. Featuring incredible art and fluid animation, "Biomorph" also boasts a unique gameplay concept that skyrockets it to the top of this list. In this 2D action game, you can take the shape of your enemies after you kill them, allowing you to use their abilities for a limited time. As you meet new enemies you will be able to take on their powers and unlock new ways to navigate through the environment.  This twist on the Metroidvania formula uses a mix of extra fluid animation and a crisp, but cartoony art style to make "Biomorph" stand out in a crowded field in more ways than one. 
In addition to the clever gameplay concepts, the developers also promise the game will have a wide variety of weapons and loadouts for players to use and upgrade as they progress. The trailers are also rife with environmental puzzles and NPCs so it looks like the team at Lucid Dream Studio is shooting for the moon with this inventive and ambitious Metroidvania. It certainly seems like there will be a great deal of variety to the gameplay in "Biomorph," if what we know so far is any indicator. 
Release Date: TBA 2023
Genre: Action, Adventure, Platformer
Game Modes: Single-Player
 9 Years of Shadows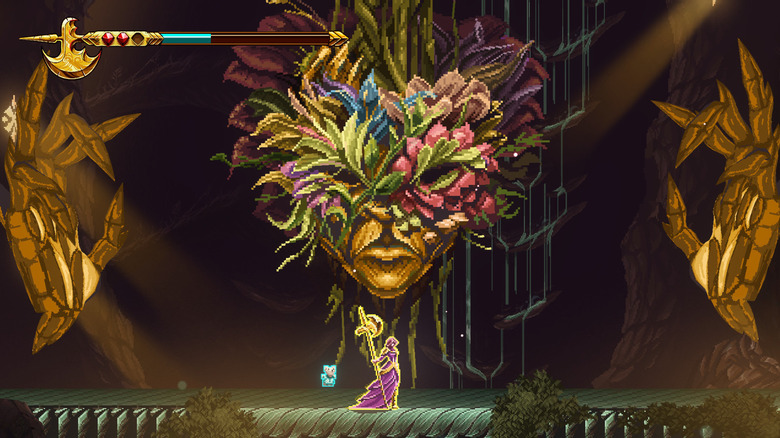 From Freedom Games (publishers of "Dark Deity" and "Coromon") comes the impressive debut of Mexican developer Halberd Studios. "9 Years of Shadows" puts its best foot forward, from the vibrant hand-drawn art of the trailer to the gorgeous 32-bit inspired visuals of the game itself. The game is no slouch when it comes to combat and navigation, either.
Explore Talso Castle as Europa attempts to conquer the castle's depths in order to return color to the world a la "Chicory: A Colorful Tale." By using Europa's companions and elemental armor you will unlock new techniques that enhance every aspect of gameplay. And the developers have also said that music will play a major role in "9 Years of Shadow." So far, we know that there will be a way to heal yourself with music, and that's just one of the ways the score is being weaved into the mechanics of the game.
"9 Years of Shadows" is scheduled for Q4 2022, but with only one month left to go in the year and no date locked in yet it is more than likely to slip into early 2023. For our sake, we hope it's closer to January than June. This one is shaping up to be awesome.
Release Date: TBA 2023
Genre: Action, Platformer
Game Modes: Single-Player
The Last Case of Benedict Fox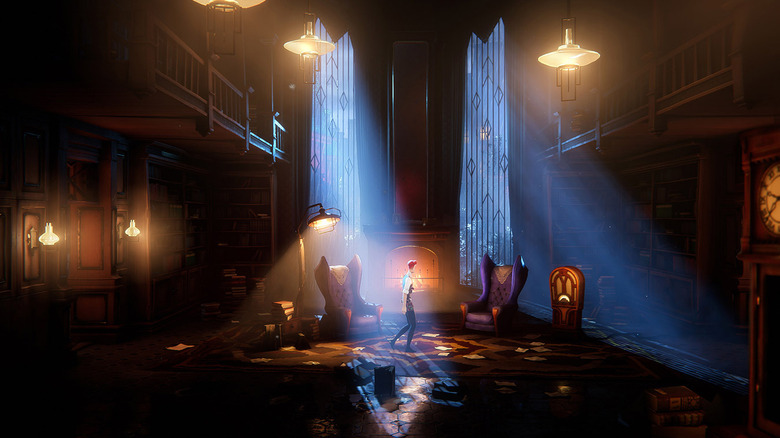 One of the most compelling Metroidvania style games on the horizon is Plot Twist's Lovecraftian adventure "The Last Case of Benedict Fox." Based on the trailers, all aspects of this game seem to put an original spin on cosmic horror. Playing as Benedict Fox, you will use your demon friend to help you jump into the memories of the victims whose very murders you are solving. Think something like "Metroid" meets "Ghost Trick" with a detailed painterly art style to it, and you might be somewhere in the right ballpark. Still, the fact that describing the game is difficult speaks to its singularity.
"Benedict Fox" is, according to the game's Steam page, inspired by "Lovecraft's nightmares, noir pulp fiction, and early 20th-century jazz music. By de-emphasizing combat and putting the focus on puzzles and exploration, "Benedict Fox" seems to be going for something a little different from most Metroidvania games. This cocktail of influences combined with what we've seen so far has "The Last Case of Benedict Fox" climbing up our most-wanted list.
Release Date: TBA 2023
Genre: Action, Adventure
Game Modes: Single-Player
Hollow Knight: Silksong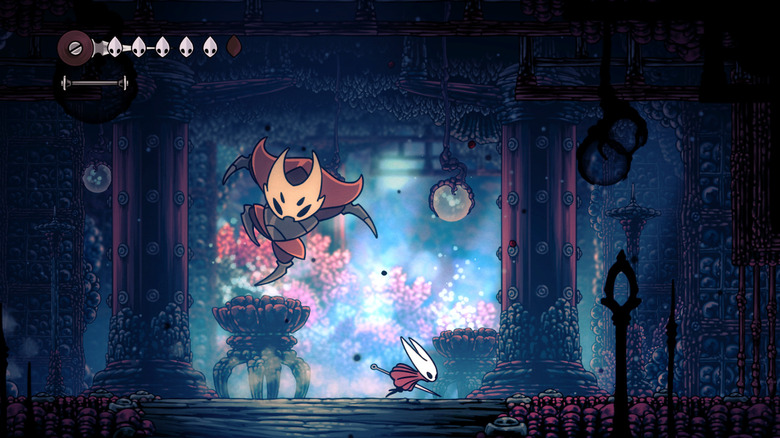 How could anything else sit atop this phenomenal list of Metroidvanias set to come out next year if not for Team Cherry's next epic? It's been nearly six years since the first official release of "Hollow Knight" in early 2017 and in the five years since, the game's become recognized as one of the best of its genre. While it still doesn't have an official release date, "Hollow Knight: Silksong" is one of the most anticipated titles of 2023. Period.
Team Cherry's follow-up to their hit Souls-inspired Metroidvania "Hollow Knight" looks like it has faster, deeper, and more technically complex combat compared to the methodical nature of the original. This makes sense, since this time around you play as Hornet, a supporting character in the first "Hollow Knight," who is a lot more spry and mobile than the Knight. Everything we've seen so far from "Silksong" looks stunning and in line with the visual style of the first but more vibrant in its colors.It seems like Team Cherry is taking the time they need to ensure "Silksong" is as polished and well-realized as the first visit to Hallownest. We are just hoping that means it will finally come out this year and not in 2024. Team Cherry has left us hungry for "Hollow Knight" for far too long now. 
Release Date: TBA 2023
Genre: Action, Platformer
Game Modes: Single-Player